You know, getting sponsors is a lot like getting my twin girls to  say 'cheese' to the camera at the same time. It can be difficult, but when you know the tricks, you'll get even better results than you were hoping for.
It's all in the approach.
You see, when you look at the surface of twins Lyra and Sasha, you basically see the same, if not identical, looking and acting 4-year olds. They're even both diagnosed with Autism.
They are as different as they can be, much like corporate sponsors. (By the way, the girls really are fraternal twins… not identical.)
Without knowing what motivates them, trying to get them to do ANYTHING together is near impossible.  A blanket approach just won't cut it.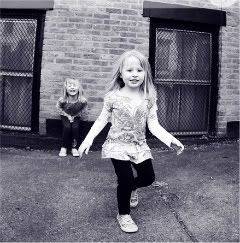 For example, Sasha is a people pleaser. She wants people to be happy. Plus, she loves looking at happy pictures of herself, so she's willing to stop and pose as soon as she sees a camera whipped out. Lyra, on the other hand, doesn't care as much about what people think, but she loves being tickled.  So all it takes is a little wiggly finger to get her smiling.
You need to do the same with your sponsors. Stop looking at them a group of companies you want money from and start seeing them for what they are: individual organizations with specific needs and goals.
Show how a
sponsorship
fits with their past projects, how it will benefit their particular business and how they can handle it without busting their budget.
Yes, it IS that easy. But it goes deeper than that. You see, there are some very big assumptions (bad ones) that most people make once they think they've figured out how to see companies as individual businesses. (Something we go over at length in Lesson 2 of the
Sponsorship Made Simple Academy
.)
Assumptions including:
The return on investment (ROI) that you see is the same the ROI the sponsor wants.
Signage and banner displays are what every sponsor wants.
A simple Powerpoint presentation PDF'd is all you need to seal the deal.
Sending your proposal to the owner or president of the company is the best way to get a quick yes
And when you make bad assumptions, you end up hurting not only your chances of getting sponsored, but your reputation as well!  (And it's the same with my girls, get their motivations wrong and you earn the risk of getting a very angry 4-year old in meltdown mode!)