Editor's note: this is definitely a PG-13 post… but I know you can handle it.
Just as President Obama was talking about kicking ass, I was getting called as a butt kicker too, at Nancy Marmolejo's I  Heart My Biz event.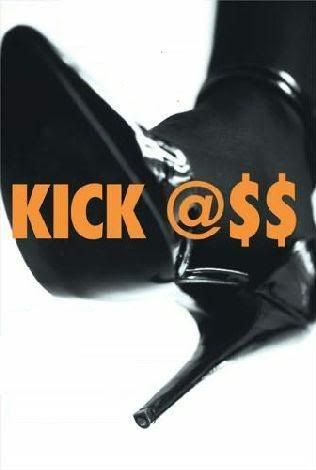 While the president doesn't seem to be worried about the backlash of such a remark, I was upset about being labeled an ass-kicker.
I wanted to be perceived as nice… as helpful… as smart… as savvy. However, at this event, attendees were coming up to me and saying, 'I'm going to ask you a question during the Q &A session, are you going to kick my ass?'
I felt awful. Sure, I have an edge. Yes, I like to get to the point. I don't believe I need to tell you I am 'holding and honoring your space' if I am answering your question, because if I wasn't honoring you, I wouldn't even bother answering.
Maybe it's not the Californian way, but that's how get business done in New York. We pinpoint the problem and then fix it. Plus, add a background in no nonsense journalism and you get… well…  me.
At the event, I got a card from one of the attendees who I had given some real advice. EJ Shames from Wholistic Mama reminded me my gift was being clear and telling people exactly what they need without any bullshit (OK, EJ would never swear… that is me paraphrasing her thoughtful words!). And that I do it out of kindness…
Because as much as we all need a little nurturing (including me), we also need someone to tell it like it is too.
So go ahead, call me an ass kicker… because I am. As a creative marketing and PR pro, that's what people PAY me to do: I cut through the hype to get your story heard. That's why I say I am not a coach, but a mentor. Coaches hold your hand and walk by your side so you can discover the best you can be; mentors lead you by the hand to get you where you want to be.
So if you want your ass kicked… and a list of things you can do afterwards to move forward, check out my Publicity Breakthroughs.