I'm lucky enough to have EcoMaids come and clean my house every week. However, there are somethings that a cleaning service – even as one as good as mine, cannot tackle:
My closet.
It was for my biannual changing of the clothes from my winter darks to my spring and summer frocks. And I did it this weekend. But while I was at it I also did a major cleaning and reorganization.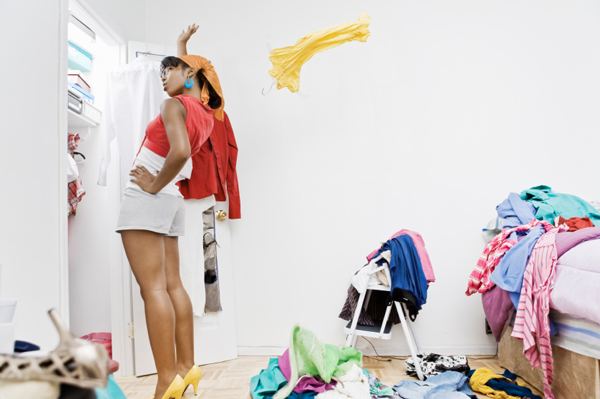 It was a freeing experience. I found some great items I nearly forgot about. And I got rid of things that I hadn't worn in a year. (If the items are in good shape, I either sell them at a consignment store or donate them to charity.)
And it got me thinking… How often do you clean your business out and reorganize?  I do it once a quarter as a review my marketing plans for the upcoming six months.
But I know many people do not. For example, just this past week, I saw:
Five websites that have a copyright date of 2009 or older
Seven ezines with a copyright of 2010 (and some even older!)
Four blogs without content since last year
Two info products I was considering to buy (one from a well-known marketer) which talked about class dates last September. (I'll admit, I found one for one of my products that referred to the holidays, so I forgot to clean up my own act too!)
But there's more to spring cleaning than updating your pages to the current year.
Just like I did with my closet, there are things  you need to get rid of because they don't suit you anymore.
So for a little motivation today,  I want you to take a look at the products or services you are offering currently on your website.  All of them.
Now, are there any you are currently offering that aren't included on that list. (Do you have them stored in another closet, by chance?  You'd be surprised that many people offer a product or service and never actually put it on their website!)
OK, take a look at that complete list.
What items are there that are the little lost gems that you can dust off and start promoting?
What things haven't you promoted in a year and need to get rid of because they just don't fit or look right anymore? If the product is usable but not something you want to continue offering long-term, hold a sale. (I share how to do it right with my S.A.L.E.S. System Formula.)  And if you would rather not, 'donate' it as a bonus to another product or service, or better yet, recycle the content elsewhere. (The Complete Online/Offline Marketing System can show you how.)
What other ways can you spring clean your business?