My good friend and visibility expert, Nancy Marmolejo, posed the following question to me yesterday on her blog:
"If a journalist is working odd hours and can publish at anytime of day, then what's happening to deadlines?"
Nancy, deadlines are not dead – not in the least. Sure, some of the rules have changed (and I'll get to that in a moment) but we as publicity seekers must still honor the journalist and his or her almighty deadline.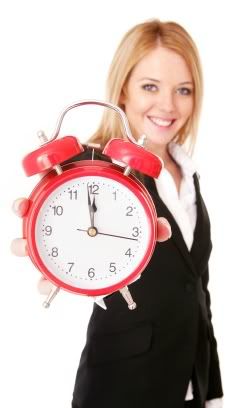 To prove my point, let's think back a bit shall we?
When the first all news radio stations began popping up in the very early 1960s, many people thought that if the station is all news, they don't have deadlines. But nothing changed.
When the first 24/7 news television stations began in the 80's, many thought that deadlines would certainly go away. It didn't happen.
So as new media and social media become part of the news landscape, you're not going to see many changes in the deadline rule.
But why?
First, although news CAN happen at any time of day, important news doesn't.  It happens when it happen. And chances are, for the average business owner, coach or consultant, your news isn't that important. (Sorry!)
Second, most news organizations really don't have the resources (as in reporters, videographers, photographers, etc) to cover all news 24/7. That's why you often see a rehash of current news for several hours, even on blogs. Sure there may be a line or two changed, but the story is the same, even if it's breaking news.
Your best bet to get media coverage is to do your homework (or hire someone who already has done it) and find out each journalist's deadline that you want to approach with your story.  And unless it really is breaking news, honor that deadline.
So what rules are changing due to social media?
Embargoes (holding a story until a specific date) are no longer being honored.
Undisclosed/ unnamed sources are being values more.
The ways to seek reliable sources are more varied than ever.