As most people are spending time on the beach and grilling up hot dogs and burgers, my thoughts are growing cold.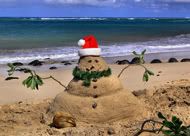 I'm dreaming of a white Christmas – and so should you, if you have a product or service that can be featured in a holiday gift guide. Those are the gift sections that start popping up in magazines, newspapers and on TV every November.
Due to the long lead times for these special sections, many media outlets – especially magazines – start looking for gift ideas in the summer. And as the saying goes, the early bird gets the worm. So you need to start pitching your gift ideas now in order to make the cut.
Here's the scoop on some of the major media types and their usual deadlines:
Magazines – July/August
Wires and Syndicates – September
Newspapers – October
TV – November
Here are some tips to help you make the most of the holidays right now:
Don't just put your gift suggestion in one category. Be creative. For example, I've pitched one of my clients, a skincare company, not only as Gift for Women, but a Stocking Stuffer, a Gift for the Mom to Be and a Gift for Your Girlfriends.
Keep your pitch short: no more than three paragraphs. Highlight the product, offer samples (if available) and photos, and don't forget your contact details.
Always check to find out who is responsible for the gift guide and what type of information they would like to receive. Some may want a press kit & product samples; others may just want a pitch.
And don't forget to think beyond gift guides. Sometimes you can use the holidays as a great launch for a story. If you're selling spa & massage services, for example, offer up tips to relax during the holiday season. If you provide interior design services, a story idea on simple & inexpensive decorating for the holidays would be gladly appreciated.