Have you tried to get a dog license recently?
No? Well count yourself fortunate, because I just got one and it was a huge waste of time and effort.  But my pain will be your gain. I'm going to share with you the business lessons I learned—without forcing you to waste more than an hour getting a $16 license.
I will try to keep it short, because, believe me, I know how frustrating it is to have your time wasted. It's a dog-gone pain in the butt! So I won't get into all the hassle of finding parking, paying 25 cents per 10 minutes on a meter, or going through a security system that requires you to remove all metal items from about your body. No, I won't mention any of those expensive, tiresome, time-consuming hassles other than to point out that none would be necessary if you didn't have to go get the license in person.
But there's no getting around all the lessons I learned, so I'll be sharing this Cherry Bomb in two parts.
Now I am not the best in customer service, but I do try. (I happily tip my hat to the person I try to emulate when it comes to extreme customer care: Sandra Martini. And she is a dog lover to boot, so I hope she appreciates this story on both fronts!)
So let's get to the heart of the matter. If you own a dog in New York State you are supposed to get a license for it. (I am sure most dog owners don't bother, but I believe in following the rules.) You would think they would make it as easy and painless as possible for you and them. Just have you fill in a form online, pay with a credit card, and then mail you the dog tags. Right? Wrong!
No, instead they make you go down to the City Hall in person. They don't even have a form for you to print off and fill in. No, you have to get that at City Hall and fill it in there. (So that someone else gets paid to read your form and then type it all in.)
I decide to call to make sure they will be open at lunch time, since the hours given on the website are not clear. It's hard to find their number on the website. It turns out that they are open over lunch, but that the hours on the website are wrong (they close an hour before the listed time.)
Lesson one: Use your website to tell people everything they need to know and to give them everything that you can. And make sure that what you tell them is accurate. If you don't give complete and accurate information on your website you will lose and/or annoy customers.
Once I get to City Hall I have to find the City Clerk's Office (up the stairs, turn right and then take a left and it's straight ahead.) I was fortunate that nobody else was trying to get help in that office, so they are able to assist me straight away. I hand in all the requisite information about my puppy. But guess what….before they can give me the dog license, I have to go to a different office to pay for it, then come back with proof of payment. And that office is at the other end of the building, on a different floor.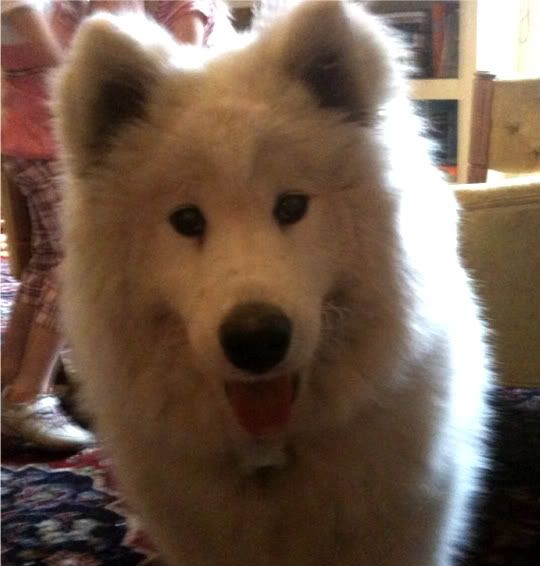 Lesson two: Create systems that minimize the time, effort and money required for your customers and for you. Of course you need systems in your business, so that all routine actions happen according to, well, a routine. But the problem at City Hall was not that they lacked a system, it was that the system was inefficient. It wasted my time and also the city workers' time, requiring me to go back and forth between different offices. Make sure you automate and systematize as many routine activities as you can in order to minimize the effort required by customers, and also the cost to you.   This means you and your customers are happier, richer, and have the time to do more important stuff (like making more money or playing with the dog.)
So the Clerk's Office give me another piece of paper and send me down to the Treasurer's Office to pay the fee. After trying a couple of doors marked "Treasurer's Office", I find the right one. There are 7 people working in the office, who look like they are there to help at the many open counters, and just one person in front of me being served. Great, I think, instant service. Yeah, right. After more than five minutes someone ambles over to serve me. They don't take cards, so I pay in cash.
Lesson three: Online purchasing is the closest thing to a painless exchange of money for services that the world has ever known. It saves time, effort and mistakes by allowing transactions to take place instantly with automatic record keeping, acknowledgements/delivery, and followup. It can happen anywhere in the world, at any hour of the day, without you having to leave your chair. And it is cheaper than having a human being sitting in an office waiting to process checks or cash. If you don't use online vending, you will lose money, time and customers.
So now that I have paid, I take my receipt back up to the Clerk's Office to prove that I have paid.   And guess what happens?  Well, you'll have to wait until Monday to find out.
But these three lessons should get you thinking…
Are your customers happy with you? Are you sure?
Is your list engaged with what they are reading from you?
Are you doing what's needed to make prospects turn into clients and fans?
Then you should check out Sandra Martini's new program "Let's Make It Real".  I will be taking the course and would love you to join me as we learn from the best: Sandra Martini. Go to http://bit.ly/MakingItReal for all the details.