Many of you know I run a virtual PR firm, which means I work from my home, and my staff work in their homes. After all, public relations and publicity can be done anywhere,a s long as you have the basic tools. You don't need a big fancy-schmancy office to get the work done.
Yet, working from home also has it's pitfalls. Frankly, I thrive having others around me to bounce off ideas and gossip a little, as well as lean on a couple of co-workers when things weren't going as planned.
It's only been recently that I've been able to venture out and make similar connections in the online world. Now I have business colleagues that I can reach out to any time.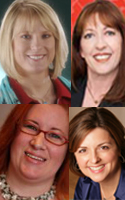 Some of these people include: Therese Skelly, Shawn Driscoll and Michele PW.
We've gotten a lot of advice from each other and now we want to give back a little so we've created a free call for you to ask any business and marketing questions you have.
Announcing the first
Virtual Cookie Exchange
December 8 at 8 PM EDT, 5 PM PDT
Why a 'virtual cookie exchange'?
Frankly, it's another thing we miss from having a traditional office.
We know how it is not be able to connect with others as an entrepreneur. And we know it's more than just getting cookies. It's about being able to share, ask questions and get input on your projects.
And that's what's this Virtual Cookie Exchange is all about. Check out the details at: http://instantTeleseminar.com/?eventid=1008494
You won't get any cookies at this event, but instead we're sharing our recipes for success and business growth on a free call and webcast especially for you.
With more than 80 years combined marketing and business experience, we've seen about everything you can imagine, and we're ready to share it all with you.
Plus, you can ask us anything about your business. We're not lecturing here… it's an exchange. So go ahead, ask your burning business questions, between the four of us, I'm sure we'll have an answer – or maybe even four. That's what's so cool about the exchange
So what's the catch?
There is none
There's no need to opt-in to any list to get access to this free call. We just ask that if you like what you are hearing and appreciate the call, think about adding us to your email subscriptions.
So come join us on December 8th at 8 PM EDT for some fun, merriment and business ideas. You can get all the details by visiting: http://instantTeleseminar.com/?eventid=1008494
Happy Holidays!