If you want to get free publicity to promote yourself, your products or your services, you need to get a media professional's attention.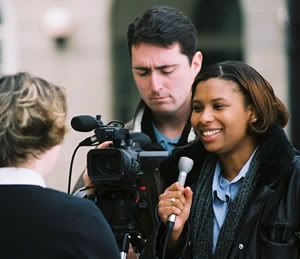 You certainly need a newsworthy story idea, but more importantly,  you need to be relevant to journalists. That's according to a new survey I just released where I polled 800 journalists.
Relevancy means your news is:
timely;
local;   and/or
means something to the target market the reporter covers
Above all, number 3 is most important. Otherwise your putting a lot of effort into something that will give you no return.
How do you find out if your news meets this criteria?
Check out the media outlet your thinking about sending the release to. Does it seem to cover many of the topics your target market is interested in? If so, move to step 2. If not, look elsewhere.
Evaluate some of the reporters. Which ones seem to cover what your news topic is about? Choose the one who seems to cover your topics the most. But make note of other possibilities.
Then – and only then –  send off your press release.
By making your news relevant, you get the opportunity to building real relationships with reporters who are truly interested in you and your expertise. And that often means that they will call you when another news opportunity arises that fits your platform.
Want to know more about what journalists are thinking to get free publicity for you and your business?
I'm hosting a FREE teleseminar called "The Inside Scoop on Getting Free Publicity for Your Business" at two different days and times, so you can pick the one most convenient to you:
* Tuesday, March 24  at 8 PM eastern, 5 PM pacific
* Wednesday, March 25 at Noon eastern, 9 AM pacific
In 'The Inside Scoop on Getting Free Publicity for Your Business', sponsored exclusively by ReadyTalk, you'll learn the results of a recent survey I conducted to more than 800 journalists across the US.
I surveyed and interviewed reporters and media professionals from small to the big national media outlets including CNN, Prevention Magazine, Everyday with Rachael Ray and Entrepreneur.
And what I found out will help you get the free publicity you want to attract more prospects and establish yourself as the recognized expert.
To register for the March 24th at 8 PM EDT webinar, go to
https://cc.readytalk.com/cc/schedule/display.do?udc=1vzz2k30m73ph
To register for the March 25 at NOON EDT webinar, go to
https://cc.readytalk.com/cc/schedule/display.do?udc=16brnce172g7k