Almost 95% of mompreneurs don't market themselves consistently. Many people think getting a business phone line, buying business cards and setting up a website should get people knowing down the door to get their products or services.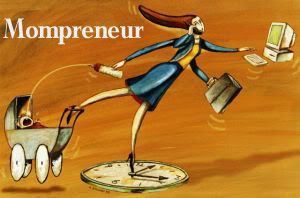 It's just not enough in today's marketplace. The key is that you need to dedicate at least 20% of your time and resources to continued marketing efforts.
Even I – a professional marketer – made that mistake in my first year of business. Sure, I began marketing myself when I first started my business. But then the work started coming in and I pushed marketing off to the side.
When I finished all my client work, and the money was starting to dwindle, I ended up starting all over again with my marketing efforts.
What I learned was consistent marketing efforts will keep people in your pipeline.
As mompreneurs, we're very busy people but dropping the ball on marketing can actually hurt you, rather than help you.
And there are a ton of issues that are unique to mompreneurs, and you can find out more about them – and how to solve them.
To be honest with you…moms have it tougher than your average person. Yes, we're all time-challenged. But no matter how far we've come in gender equality, women are expected to juggle more.
We are still maternal. It's in our DNA. No turning that off. We want our children to thrive and be successful at everything from infancy to adulthood. And of course we want to make enough money financially to afford the freedoms that brings.
And how can you speed up the learning curve? With the Savvy Mompreneurs Telesummit, that's happening next week.  Check out all the details at http://www.tinyurl.com/savvymom
You'll hear from mom entrepreneurs who are making a great living while enjoying family life, including:
Lorrie Morgan Ferraro

Alexis Martin Neely

Carla Young

and even yours truly!
Won't you join me at Savvy Mompreneurs Telesummit?